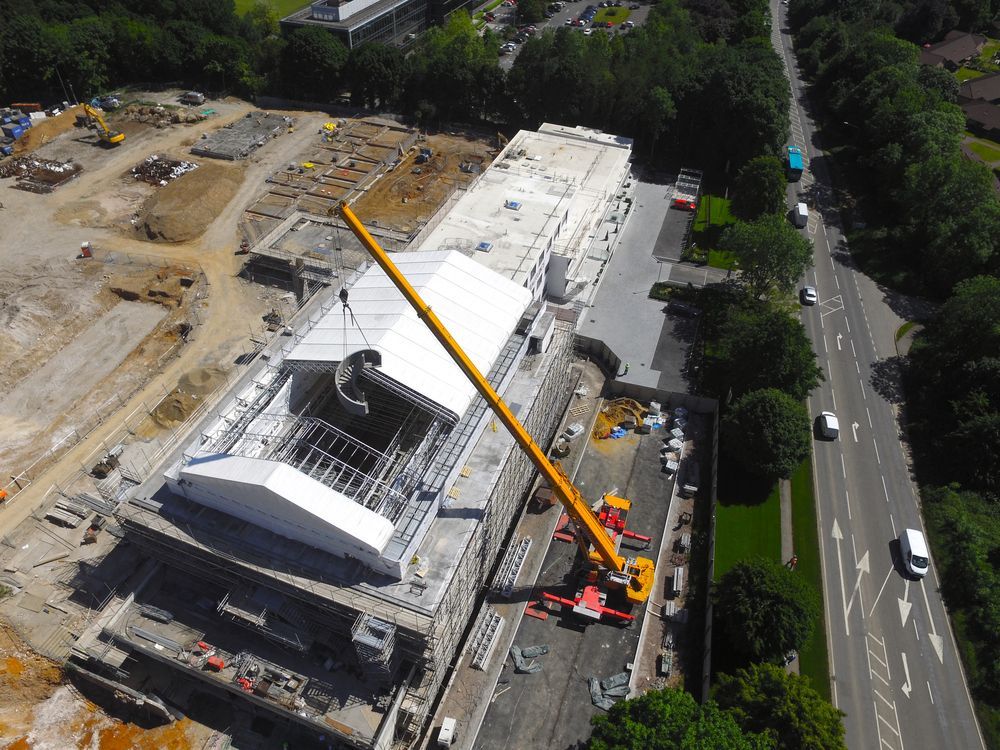 The Denham Film Studios receive a special delivery
Milbank Concrete Products are proud to announce that we successfully designed, produced and installed the UK's first ever twin set of precast concrete helical stairs with cast concrete handrails for Weston Homes PLC flagship development at the Denham Film Studios site in Buckinghamshire.
The stairs were a unique challenge both to manufacture and install and provided many design issues that were expertly overcome and resolved. Manufactured to a high degree of accuracy they were installed with ease mainly due to the high communication and collaboration between both companies along with superior planning and build by our client.
The Denham Film Studios were originally a British film production studio operating from 1936 to 1952. Founded by Alexander Korda, notable films made at the studios include 'Brief Encounter' and David Lean's 'Great Expectations'. A unique collection of 224 conversion and new build homes, including 154 one, two and three bedroom apartments and 70 four and five bedroom family townhouses are currently under development at the site.
The new properties are designed around garden squares, landscaped grounds, rill water features, private gardens and protected woodland complete with parking and garaging. Cadman Cranes Ltd, part of The Milbank Group, used their flagship 180t mobile crane to assist with the installation of the 12 tonne units over a 4 hour period on Friday 26th of June.
The twin set of stairs were produced off-site at our factory in Earls Colne, North Essex by Kallisto, our specialist stair division – a new concept in curved stair design by Milbank Concrete Products.
We work with a large selection of clientele ranging from luxury property consultants to high profile construction groups and our expertise has been commissioned for staircase installations in some of the most prestigious venues in the UK, working with architects, engineers and designers to produce stunning, durable precast spiral staircase installations.
Every single one of our stairs is custom made and bespoke to suit your project. Share your designs, sketches or thoughts for your next sweeping or spiral staircase with our design team and they will help you with your creation.
To find out more, book a factory tour or request a brochure, please contact Kallisto on 01787 220 564. Alternatively, you can send us an email to [email protected] or visit our website at www.kallistostairs.co.uk
To find out more information about Weston Homes PLC please visit their website http://www.weston-homes.com