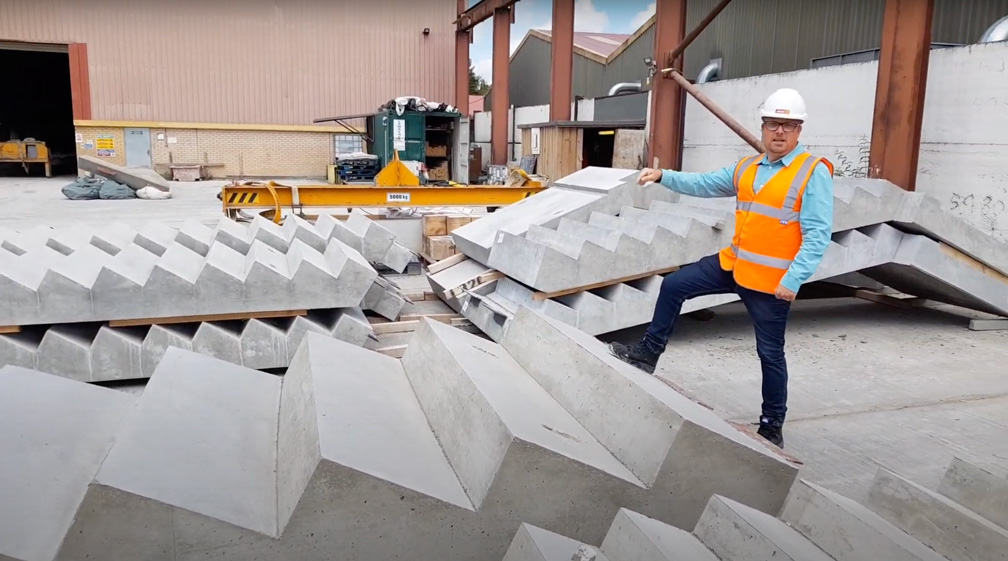 What's in our Yard? Episode 3 – Bespoke Concrete Terrace Stairs
What's in our Yard? Episode 3 – Bespoke Concrete Terrace Stairs
Join our Bespoke Precast Business Development Manager Mark Ellis as he takes a trip into our precast concrete production yard to see exactly what we've been manufacturing.
In this Episode, we take a look at an absolutely humungous bespoke precast concrete terrace stair unit, weighing in at an eye-watering 8 tonnes.
We are specialists in precast concrete staircase and landing design, manufacture and installation. With an experienced team and a dedicated production facility, we produce exceptional standard flights as well as complex bespoke units to order, such as terrace stair units or curved and helical flights.
We have a dedicated in-house design team that is well equipped to cater for any of our clients specific terracing requirements. Our team of specialist bespoke estimators can provide both guidance and detailed information on our auditorium seating, terrace unit configurations or terrace stair flights, and their experience and expertise are second to none.
If you wish to contact Mark directly regarding a bespoke precast quotation, he can reached at;
[email protected] | 01787 220507
For everything else, its;
[email protected] | 01787 223931