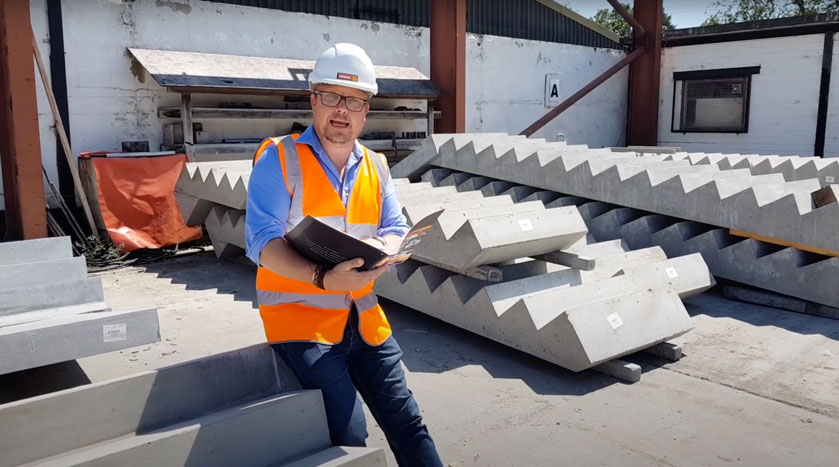 What's in our Yard? – Episode 5: Bespoke Precast Cultured Concrete
What's in our Yard? Episode 5 – Bespoke Precast Cultured Concrete
Join our Bespoke Precast Business Development Manager Mark Ellis as he takes a trip into our precast concrete production yard to see exactly what we've been manufacturing.
In this special Episode, Mark shows us exactly how well our bespoke precast concrete is treated prior to delivery to our customers with a special poem.
In our Essex based, purpose-built factories, we are well equipped to manufacture a wide variety of entirely bespoke specialist precast concrete components. From charcoal pigmented seating units in shopping centres to luxurious sweeping helical stairs in some of the most prestigious properties in the UK, we work together with our clients to design, build and install exceptional precast concrete products to their exact requirements.
Our clients originate from a range of industries including commercial and residential construction, rail, health, energy, environmental and the public sector and our products are routinely used for a variety of applications. From creating steel frame support beams at commercial developments, such as the Warner Brothers Harry Potter Studios, to terracing units, walls, stairs and floors at stadiums, such as the Kia Oval cricket ground. Our range of products and services are trusted by industry-leading contractors all over the UK.
If you wish to contact Mark directly regarding a bespoke precast quotation, he can reached at;
[email protected] | 01787 220507
For everything else, its;
[email protected] | 01787 223931