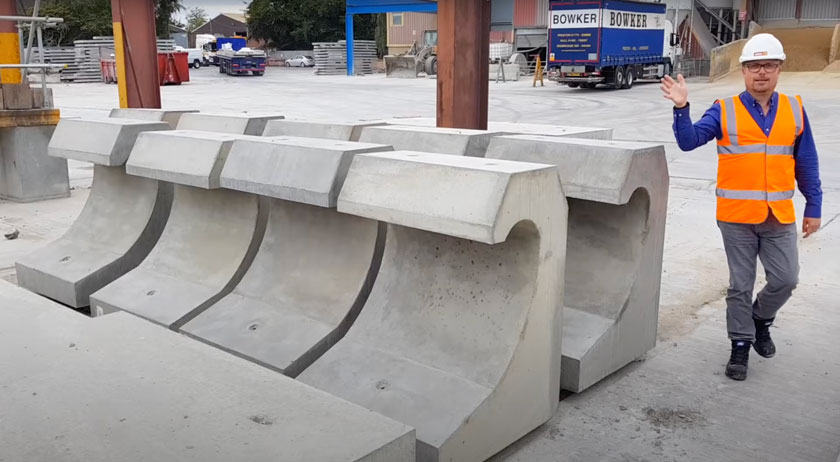 What's in our Yard? – Episode 6: Bespoke Precast Concrete Wave Walls
What's in our Yard? Episode 6 – Bespoke Precast Concrete Wave Walls
Join our Bespoke Precast Business Development Manager Mark Ellis as he takes a trip into our precast concrete production yard to see exactly what we've been manufacturing.
In this Episode, we take a look at a collection of precast concrete wave walls that hold the important role of protecting our valuable coastline against storm waves by reflecting corrosive wave energy.
Our coastline is valuable for both economic and social reasons, but it is a varying environment that naturally evolves through coastal erosion and flooding. Milbank offer a range of precast concrete sea defence and anti-flood solutions to a variety of industries.
Milbank Concrete Sea Walls are manufactured from reinforced precast concrete and protect against storm waves by reflecting wave energy. They are normally found in towns or harbours where there are lots of properties or special assets to protect. Storm waves can be very powerful, and defences do get damaged.
A wide beach or salt marsh in front of a sea wall will absorb some of the wave energy and make the walls more effective.
Whether the requirement is complete concrete wave walls, or copings to refurbish existing defences that have been damaged, Milbank provide high quality bespoke precast concrete block units to resist natural processes such as wave action and sediment movement in a range of sizes.
If you wish to contact Mark directly regarding a bespoke precast quotation, he can reached at;
[email protected] | 01787 220507
For everything else, its;
[email protected] | 01787 223931