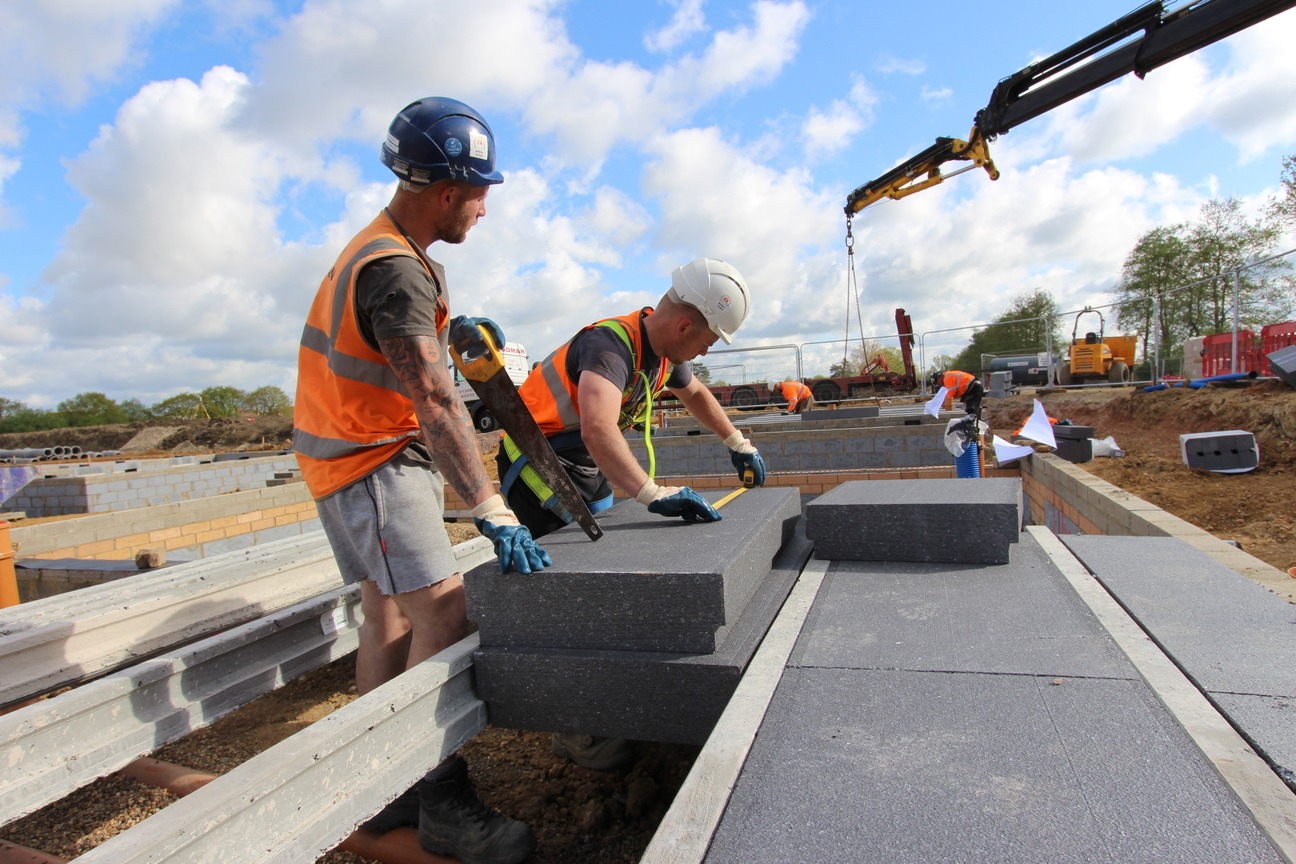 Milbank Concrete Products launch cost effective insulated flooring solution
WarmFloor Pro offers construction professionals a cost-effective alternative to quickly constructing a thermally insulated concrete ground floor over the industry leading competitor brand, Jetfloor, by Forterra (Bison). Reduced initial construction costs and an increase in energy savings make WarmFloor Pro a compelling alternative to a standard beam and block floor. With it being fully certified and A+ Green Guide rated, WarmFloor Pro is proving to be a must have addition to any new, eco-friendly development where keeping heating costs low is paramount.
WarmFloor Pro is suitable for almost any structure, but is most commonly used in housing, from single dwellings to complete housing developments. It offers a simple, cost effective, concrete insulated flooring solution to self-builders and construction professionals alike. Without the need for any specialist tools or skills, installation of WarmFloor Pro is efficient and streamlined whilst minimising waste and emission rates.
WarmFloor Pro works by combining rigid insulation modules (EPS blocks) manufactured from lightweight closed cell expanded polystyrene which is laid in-between prestressed concrete beams (either 155mm or 225mm deep) with an EPS top sheet, membrane and concrete screed. If required, underfloor heating can be incorporated with the pipework attaching to the EPS panels before the concrete screed is applied.
As every building is different, Milbank are well equipped to design your floor to achieve the specific targeted U-Values (reaching as low as 0.07W/m²K) together with the structural layout of the floor to suit. Milbank then manufacture the concrete components and supply the materials directly to you. WarmFloor Pro is currently available on a supply only or supply and installation basis using their vastly experienced installation teams.
Further Information
For more information on how WarmFloor Pro can save you (and your customers) time and money, visit the WarmFloor Pro page by clicking here.
WarmFloor Pro Datasheet
Please click here to download our WarmFloor Pro Technical Specification Datasheet. Alternatively, please click here to download our WarmFloor Pro Infographic.
Looking for a quotation?
Our dedicated sales and estimating team are on hand to answer any of your queries. Please send any questions to [email protected] or alternatively call us on 01787 223 931 or visit our Contact page to submit a quotation enquiry.